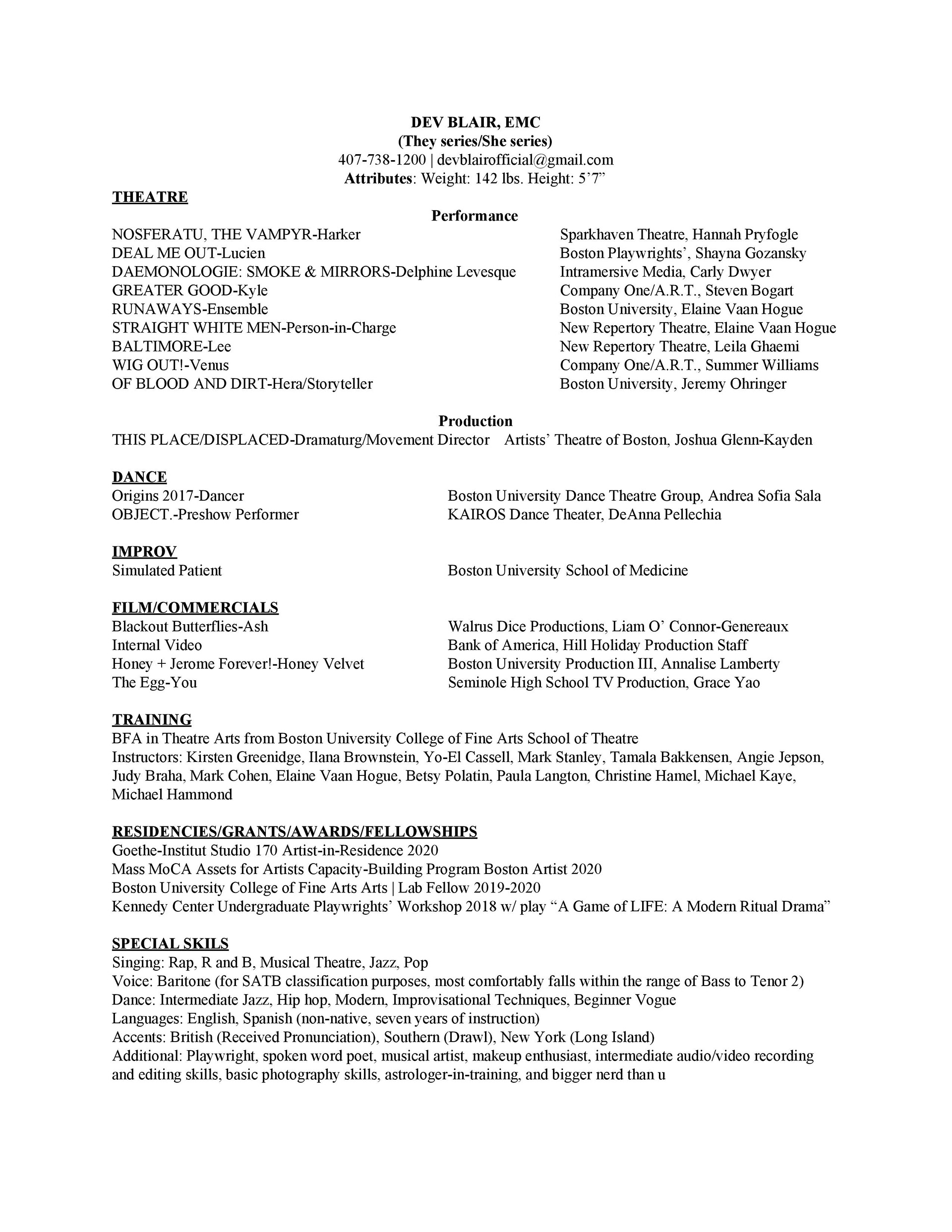 "Blending genres and art forms like the blend of Southeastern US cultures that made them, Boston-area rapper Dev Blair aims to take up space with their rhymes-and challenge the culture while doing so. Nashville born, Atlanta raised, Orlando grown, and Boston educated with ancestors in Louisiana, Dev Blair is a queer Creole tranny witch and wordsmith, writing songs as spells and raps as prayers. Dev got into music through musical theatre, which led them to choir, acting, theatre school, and eventually led them to embrace multiple art forms, including poetry. Poetry led to rap, and now with the release of their debut album, Femmetasy, this Trap beat tranny is ready to slide on the scene."
Dev Blair (they/them/theirs) was born during Sagittarius season (winter, for the nonbelievers) in 1996, but their eventual Artistic career wouldn't begin until their 5th grade self made the decision to 

NOT

 attend a performing arts middle school in lieu of attending a STEM middle school. After gifted kid burnout showed Dev that both STEM fields and academia weren't their thing, they dove headfirst into the arts, joining their Central Florida high school's Thespian Troupe and choir before setting their sights on Boston University's School of Theatre as the place for them to continue honing their craft.

In 2015, as the Sun entered the sign of Virgo, Dev Blair started their journey at the Boston University College of Fine Arts School of Theatre. Given the time and space to nurture themself artistically, they began to expand and found themself interested in more than just acting for the stage. 
During their four years at BU, Dev acted in both college and professional productions (such as Company One's production of  "Wig Out!" by Tarell Alvin McCraney, pictured, Liza Voll Photography), as well as wrote for digital publications like Lenny Letter and the now defunct MTV Voices. In addition to prose, Dev has also written two full length plays, enough poetry for a chapbook (check their poems out at Medium), and music that can be heard on Spotify and other major streaming platforms. They've also brought their gender non-conforming sense of style to the modeling world for various fashion platforms, including Qwear, Off The Cuff, and The BU Buzz.
During the Gemini summer of 2018, Dev participated in the John F. Kennedy Center for Performing Arts' 3rd annual Undergraduate Playwrights' Workshop, developing their live crowd-played immersive theatrical gaming experience, "A Game of LIFE: A Modern Ritual Drama," which received a workshop production in May 2019 as Dev's BFA Theatre Arts thesis.

Dev is from all over the occupied land referred to as the Southeast US and currently resides in Boston, where they continue to develop their body of work and skateboard from gig to gig.